Introducing MySSy
a personal recordkeeping system for those with Care experience.
MySSy is a research prototype of a new kind of Living Archives; a place for you to manage your info - especially records of your time in Care and beyond. It has been built as an independent recordkeeping registry together with a mock integrated network environment.
Rights in Records by Design is an Australian Research Council Discovery Project investigating the design of systems to support the recordkeeping rights of people who experience childhood out-of-home Care.
MySSy has been designed to maximise your rights and easily let you manage your records.
Manage Personal Information
Keep all of your personal details, family information, and anything else you need others to know about you - all in one place. Securely share different sets of this info with different people.
Make Notes
Keep simple, personal notes. These act like 'post-it' notes with plain text content along with one or more tags.
Store and Manage Personal Records
Store and manage your own personal records by uploading to the MySSy repository. These can be anything - photos, forms, reports - whatever records you need to keep and/or share.
Register Record Holding Sites
Locate and track which organisations hold records about you. Record holding sites may be found by browsing and/or searching (searching is useful if you find a list of sites distressing).
Register Records
Records from a site may be registered individually or in bulk. Once registered you can correct some of the details on your copy and add your own notes. You can share these as well.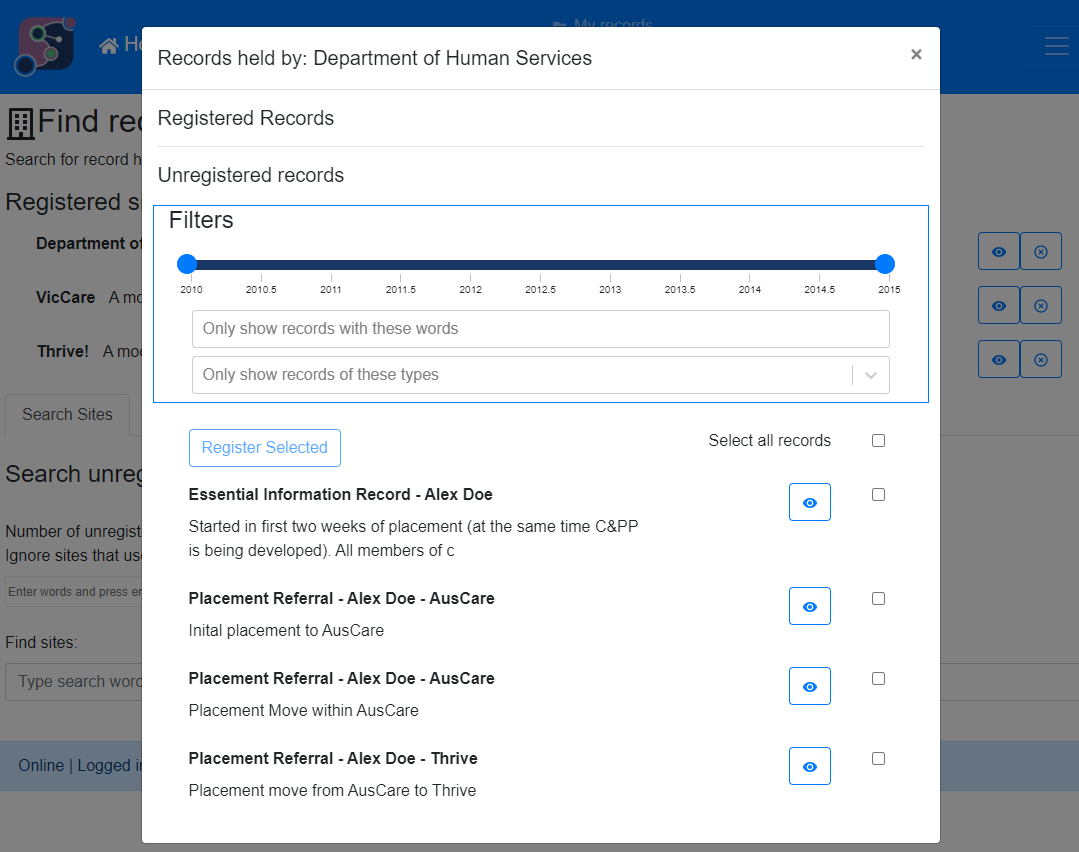 Create Sharing Profiles
When sharing personal details and records with others you can select which information to share. Up to 6 sharing profiles can be created with a description and custom emoji. When inputting your personal details and information about records you can then pick which profile(s) they are associated with.
Share Records
Personal information and registered records may be shared in two ways - by download (uncontrolled sharing) or by controlled system sharing.
Download
If you download a record to share, you take responsibility for storing and sharing the copy. If you like, the copy can have a customisable consent notice or terms of sharing.
Controlled Sharing
With controlled sharing, record images are stored and served by the registry server. You control the sharing – setting an audience tag and expiry time for each share; optionally requiring a security code for access; and optionally including a customizable consent notice or terms of sharing. You can track the access history of a share; and extend/cancel shares if you need.
When a controlled share is created, the URL is shown as a string and as a QR code. If specified, the security code must be entered at this URL to view the share. The record is displayed as an encoded image – the only way to obtain a copy is to screen-shot the browser displaying the record, or (with some programming skills) reverse engineer the encoded image.
Manage Shares
You can manage the personal information and records that you share – including extending or cancelling the share. You can view a list of shared records and for each see who it has been shared with, the expiry date for the share if there is one, and the share URL.
View Activity History
MySSy keeps track of who has created, updated, or viewed personal information and other registered records. You can review this history and even see the details of any changes.
Rhiannon Abeling "My records are a part of my life. Creating this app has taken it one step further in showing people that what they view as a job is in fact part of my life. I feel like I'm reclaiming a missing part of me."
Aedan Brittain
Elizabeth Constable "I'm passionate about creating positive change in the Care sector. MySSy shows what impacts opening up access to records could mean for people with Care experiences to know and have control over their information."
Joanne Evans "This prototype turns policy aspirations around access to childhood Care records into a tangible system. We want it to promote discussion around what the next steps might be for turning it into a practical reality - and to continue to co-design that future."
Matthew Drever
Alex Jones "MySSy is designed to assist people who have lived in OoHC to have involvement in their records.It could make Care records processes transparent, accountable and inclusive. The choice is up to you!"
Han Phan "I joined the RiRbD project as an analyst programmer in the last year of my PhD with existing technical experience in software engineering and research experience in HCI. After one year working in the RiRbD project, I have learned and improved various parts of my knowledge in software development and research; most importantly, I am more aware of the negative impacts of bad system designs on people, especially the vulnerable ones. I have also made new friends and connections throughout different stages of the project."
Ella Roberts "The co-design process has given me a sense of autonomy over my records. It has made me realise records are so much more than just words on paper - transparency and accountability matters."
Gregory Rolan "It has been a real privilege to work on this exciting project alongside young Care-leavers. The app is deceptively simple, but represents a transformational change in the way we think about and manage Care records."
---
The Rights in Records by Design Project is funded through an Australian Research Council (ARC) Discovery Grant DP170100198. The Chief Investigators are Associate Professor Joanne Evans (Monash University), Associate Professor Jacqueline Wilson (Federation University Australia), Professor Sue McKemmish (Monash), Associate Professor Philip Mendes (Monash), Professor Keir Reeves (Federation), and Dr Jane Bone (Monash).
Associate Professor Joanne Evans is the recipient of ARC Future Fellowship FT140100073 Connecting the Disconnected: Co-Designing Inclusive Archival and Recordkeeping Systems.
We would also like to acknowledge the contributions of all those involved in the Setting the Record Straight for the Rights on the Child Initiative, and at the May 2017 Summit, to the development of the National Framework for Childhood Out-of-Home Care.